I was blessed to be a part of a mission team of 5 who traveled down to Caracol, Haiti in February. This happened to be my 10th mission down to Haiti, and it was one of the best! It had been 3 years since I'd traveled down, so I was beyond ready to go. The purpose of this mission was building maintenance and training & conversations around family strengthening. In addition to having 19 girls in family, Strong Tower has been moving toward initiatives to keep children in their family, which is so exciting to be a part of. Two of us spent an entire afternoon holding incredible conversations and in training with our Community Liaison, Kainsone. Kainsone is a new, paid (local, Haitian) employee of Strong Tower. One of the things we discussed was the importance of identifying local resources that are already there in Caracol and making connections with other leaders in the village. Kainsone had a tremendous head start on this, sharing he'd met with many leaders already and shared our hope of helping to equip families with support. The goal is to encourage families to raise their children up in a healthy, loving home. Kainsone is motivated and excited to continue his outreach. His energy is exciting! We're looking forward to hearing from families in Caracol to learn their greatest needs. It was clear that God is on the move with next things.
We had sit down time with the local pastor, Payot, and Strong Tower's local administrator, Pedrine. She shared about the 19 girls in care, asking for prayer for her and the mommas at Strong Tower. The girls are navigating their teenage years, which can be challenging at times. They're all doing very well in school and have dreams of doing great things! I was surprised to learn that many of the girls stand taller than me now!
It's always special to serve and mission alongside my mother-in-law, Brenda. She was able to sit down with the girls in family at Strong Tower and work with each of them individually. They all adore her! It's incredible to see God at work through her, but also watching God shine through each of the girls.
The guys worked hard on maintenance around the property, mainly on plumbing-related things and replacing a few boards on the girls' home.
A few of my favorite moments that really stood out & made this mission incredible to me:
Several times, Pastor Randall took opportunity several times to stop and pray with men. Every time I saw him stop and pray with someone; I couldn't help but think that it was such a beautiful example of what Jesus would do.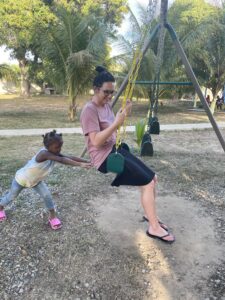 Strong Tower had a very recent and unexpected donor commit to giving a significant monthly donation. God was all over this…the local school (connects to Strong Tower property; the girls attend) had lost their support to buy food (rice, beans & protein) for school lunches. (Another organization supported the school lunch program prior to Strong Tower becoming involved.) While we were there, our team was able to deliver the first of the new monthly donation that will now allow Strong Tower to cover children in the school to have a lunch every day! The children came to school on Monday morning & didn't know this news. The children all lined up in rows by class and said their pledge, then the principal started the prayer to begin their day. Our team was up in our dorm building in an open porch space (2 stories high) looking down on the children, so we could see and hear everything. During the principal's prayer, he thanked God for the new support coming in that would allow the children to all have lunch at school again. What came after this took my breath away- the children clapped, laughed, cheered & erupted in happy conversations…they were so excited to know they would be getting a meal every day! It was incredible to be a witness so many children be so happy to learn they'll be eating a full meal regularly again. (Some likely don't get a good meal each day, even at home. Food is still hard to come by in Haiti.) God is GOOD and is our provider!
Edwidge, one of the girls in family at Strong Tower has been one that has always held a special place in my heart over the years. Her story is an amazing one…she came into care not hardly being able to walk and was very week and ill. As a child, she sat outside on the ground most of her days prior to coming into care. She didn't use her legs much and was very small for her age. Today, Edwidge is a thriving 14 year old, a very strong and healthy young lady! God has transformed her.  It's incredible! On our last evening there, we went to tell the girls bye, or as I like to put it, "see you next time". Edwidge had a journal, so I wrote in it, writing "mwen renmen ou" (I love you). She wrote the same message back to me. A few minutes later, she pulled me to the side and asked to pray for me. Edwidge asked to pray. For me? What?! (I was blown away & brought to tears.) Her and I stood together on the edge of their porch and she prayed for me in Creole. (Oh my heart!) This was a treasure moment for me!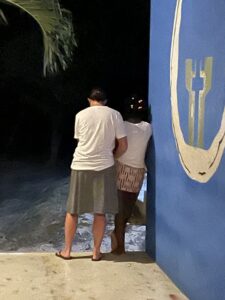 I would be remiss not to mention our devotion and prayer time up in "the office" (roof of the dorm). Our team came together each night before bed and talked about the day. It's a wonderful time to debrief. It's a time of laughter, a time for tears, a time to share the heavy burden that can lay on your heart while missioning in a 3rd world country. It's a time to be there for one another, lift each other up, love your mission team members & for prayer. We end each evening in the office with prayer, lifting the needs of the village to our God. God is so good and hears our prayers. We were blessed with stars, planets, falling stars and a white "holy spirit" bird (I don't know what kind of bird it was, but this sounds perfect!) each evening.
Friends, I'm here to tell you "thank you for your prayers" when we mission. It means so much to have so many back home praying. We go as God calls us, but for me, it's never without some reservation, knowing I'm leaving family back home. We know God goes before us, and we're best to be within His will. We are thankful for YOU. The mission was so, so good!
Much love,
Krista Corbett